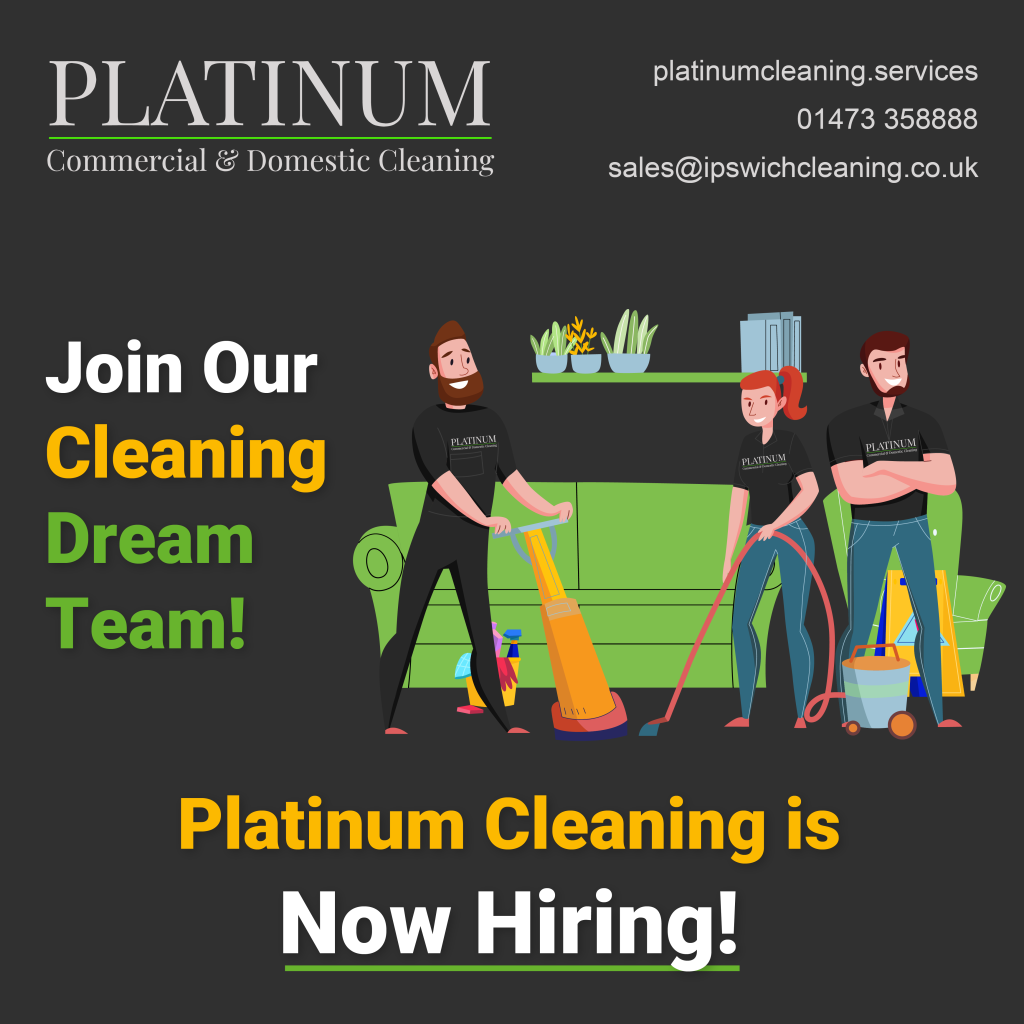 Cleaning Operative Job Vacancies
Location
Hours
Hourly Rate
No of Vacancies
Other Info
Ref
Ransomes Europark
IP3 2DZ
Monday-Friday
Mornings
7:30am-9:30am
10hrs p/week
£10.45
2 x Vacancies
VO1
Ipswich Town Centre
IP1 2DE
Monday-Friday
Evenings
17:45hrs-19:45hrs
10hrs p/week
£10.45
1 x Vacancy
SE1
Great Blakenham
IP6 0JE
Monday-Friday
Evenings
Can start anytime
between 16:30-18:30hrs for 2hrs
10hrs p/week
£10.45
1 x Vacancy
Own transport preferable due to the location of the site
SU1
Ipswich
IP2 0AN
Monday-Friday
Evenings
15:30hrs-17:30hrs
10hrs p/week
£10.45
1 x Vacancy
Start date will be end of July 2023
RA1
Ipswich Town Centre
IP1 3QH
Evenings
17:45hrs-19:45hrs
10hrs p/week
£10.45
1 x Vacancy
Cleaning to be done while client is on site
ST1
Are you passionate about cleaning and delivering exceptional service? ✨🧹
Platinum Cleaning is expanding our team and seeking dedicated individuals to join our cleaning dream team!
Experience the pride of making spaces shine and creating a positive impact. Competitive wages, flexible schedules, and opportunities for growth await.
Don't miss this chance to be part of our success story! Contact us today or visit our website to apply🌟💼.
Visit our contact page and get in touch to apply: https://platinumcleaning.services/contact/
#PlatinumCleaning #NowHiring #JoinOurTeam #CleaningProfessionals #CareerOpportunity #Ipswich #IpswichJobs #Cleaning #Jobs #IpswichCareers